Canon CanoScan 9000F Mark II Review
Features

Performance

Photo Quality
Bottom Line
This scanner is an affordably priced option for people who need the ability to scan photos, film negatives and slides, and bulk media. While it is slower than other models on the market, it runs quietly and efficiently. The included software may take some getting used to, but can work well to help users organize their files.
Pros:
The Canon CanoScan 9000F MKII Color Image Scanner is easy to use, and offers stunning color and resolution. It is compatible with both Windows and Mac operating systems, from Windows XP to Windows 8, and Mac OS X 10.6.8 to 10.7. The built-in correction helps to remove dust and scratches while also improving color, thus reducing editing time after the scan.
Cons:
The scanner runs slow when scanning film and negatives – and doesn't present with the best quality. Many users report frustration with the included software. There is no document feeder, which means photos must be manually lined up on the scanner to scan, rather than loaded in batches.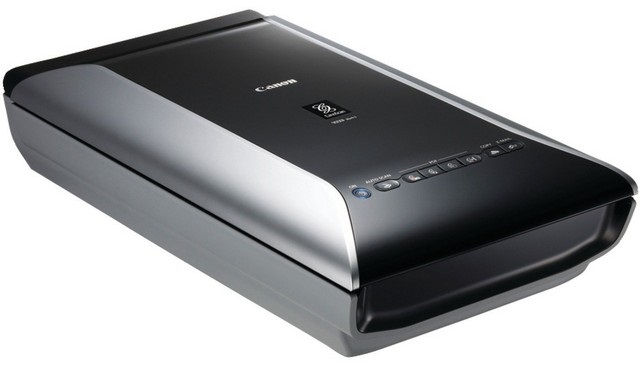 The Canon CanoScan 9000F MKII Color Image Scanner is a flatbed scanner that allows users to scan: photographs, film negatives, books, and other media. It uses USB 2.0 connectivity for increased speed, as well as ease of connectivity and use. It is one of three film and negative scanners in the Canon line, and is the top of the line product offered by Canon. This product is an upgrade from the 8800F MKII Color Image Scanner.
Features
The Canon CanoScan 9000F MKII features "push-button simplicity" with seven buttons to let the user choose the task to be done with the original document. It features an auto-scan option that detects the type of document you're scanning, to scan and automatically save in the best format for the media. The built-in guides allow for up to 4 35-mm slides and up to six negative frames to be scanned at once.
The included My Image Garden software allows you to handle all document and photo scanning in one place, and organizes your files for you. The Film Automatic Retouching and Enhancement (FARE) feature offers built-in correction for film and photos, to remove scratches and dust, while also restoring color.
Scanning Speed Photo Quality
The maximum 9600 x 9600 color resolution for film scanning combined with the 48-bit color depth, capable of producing more than 281 trillion colors provides amazing quality. The software included with the scanner allows enhancements up to 19,200 x 19,200 resolution. The scanner requires no warm up time, and as an Energy Star qualified product, uses little energy. The scanner uses the same CCD technology found in digital cameras.
This scanner provides a decent scanner speed, scanning color photos at 8.6 pages per minute (PPM), at a 300 DPI resolution. When scanning film, the speed slows down considerably, to 3.3 PPM, at 1200 DPI resolution. The decrease in speed results in a higher quality image scan. It takes approximately 18 seconds to scan a single 35MM film negative, and approximately 7 seconds to scan a single photo.
The resulting photo quality is good enough to store your memories for digitization, and reprinting later, should you decide to restore old photos. The scanner quality is above satisfactory in terms of photos, but could use improvement in terms of slides and film.
Comparison
Compared to another product in the Canon CanoScan line, the CanoScan LiDE110, this product offers a much higher maximum resolution. While it is more expensive than the CanoScan and has many of the same features, it can't be beat in terms of quality. However, compared to the Epson Perfection V800 scanner, while the 900F MKII is more affordably priced, it doesn't offer the same high quality resolution options. Unlike the much higher priced Pandigital Personal Photo Scanner/Converter, it requires the use of a computer to scan and save photos. The Pandigital scanner allows users to scan directly to SD, meaning there is no need for a computer to serve as the "middle man." Compared to the Doxie Flip, it is a good scanner, but the Doxie Flip does have distinct advantages – it's cordless, the lid can be removed and flipped, it's smaller and easier to transport on the go, and with the separate Apple SD card reader, allows photos to be synced directly to an iPad®.
Warranty and Support
The Canon CanoScan 9000F MKII Color Image Scanner comes with a one year warranty. Support can easily be found on the official Canon website, where customers can search a knowledgebase for more information about their problem. If the knowledgebase and FAQ does not provide the support needed, customers can get support by email or telephone, as well. Canon no longer offers repair service for this product. An extended service plan, known as Canon CarePAK can be added at the time for purchase for $25, to allow up to three years of full product service and support, from original purchase date.
Conclusion
For customers on a budget who need a quick and easy way to scan more than just photos, this is a great scanner. For customers who want speed for film scans, this may not be the best choice. While this is a competitive scanner on the market today, it all comes down to the features the customer needs, and the price they can afford.
Buy CanoScan 9000F MKII on Amazon