There are thousands of people out there who managed to take a lot of pictures before the digital cameras came out and completely revolutionized the way in which photos could be seen without having to develop them. Now there is a great way for people to be able to scan their old 35mm slide and film and create digital versions that will be as clear as possible. In this article we are going to focus on the best 35mm slide scanner and 35mm film scanner and we will provide quick, but very useful slide and film scanner reviews that you can use when you decide to purchase yours.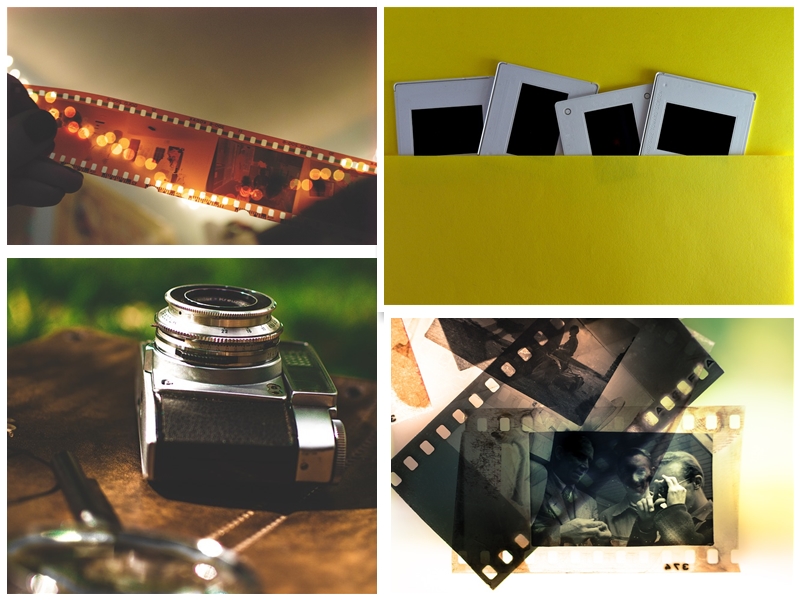 Slide and negative scanners are formatted in a way that it handles needs of slides and negatives to develop them in full sized quality pictures. 35mm slide and negative scanner further allows the users to convert the 35mm slide as well as film negatives into proper digital format. So for all those who store their memories in a film, such scanners can truly revolutionize the manner in which they archive the images.
If you have been looking for a good quality 35mm slide and negative scanner but are confused as to which one to opt for, here are the main things that a quality scanner should have.
See also: Best Photo Printer for Home Use and Mobile Printing
What Does A Good 35mm Slide and Negative Scanner Have? Have a Quick Sneak Peek.
Features you may need
Scanner you choose should have scan time under one second per negative or slide
Attractive resolution for image scanning
Enough internal memory
Pictures to be uploaded to computer/laptop or digital frame
LED light for quick scanning; no warm up time required
Compact sized scanners are portable and easy to handle
Low energy consumption scanners
Dust and scratch removal technology
Photoshop elements or other software enhancers/editors for photo retouching
Output quality
When it comes to buying the best 35mm slide and negative scanner, make sure that it offers high output quality. Research carefully about the top scanners with best output and then make an informed decision.
Speed
Top quality 35mm slide and negative scanners have high speed mode scanning even at highest resolution around 7200 dpi. The high resolution scans produce larger files and so you need fast transfer rate to scanner's internal memory or SD/SDHC card.
Ease of use
The high end 35mm slide and negative scanners available these days are easy to use as well. All you need to do is to just feed in the slides and negatives and you will be able to get your images in digital format. It is as simple as that. Such scanners have gained much popularity because of their ease of use quality. Stand-alone scanners scans and digitize on its own and does not need a computer connectivity.
Accessories availability

TV cable
Memory card
Speed load slide and negative adapters
USB cable
Power adapter
Cleaning brush/cloth
Instruction manual
After you have got an idea as to what to have in your 35mm slide and negative scanner, here we present for you the top slide and negative scanners to take a look at.
Best Scanner Options for 35mm Slides
Pros
Scans all types of films and slides
High resolution up to 22MP of output quality
Speed loaders included for fast scanning
Portable and Stand-alone; No computer required
LCD Display
Cons
Not the best color output
Menu options are limited
The Jumbl 22MP All-In-1 Film & Slide Scanner features a 14MP sensor for clear and detailed scanning on your old films and slides. The built-in software can improve quality up to 22MP. Output format option is only JPEG (ideal for web). There is no need for computer as this scanner automatically saves digitized output into the internal memory or if you preferred, into an SD card. This scanner scans all types of films and slides (35mm Film, Super 8 Film, 110 Film, 126 Film, 25mm Slide, 110 Slide and 126 Slide).
Verdict
The Jumbl 22MP All-In-1 Film & Slide Scanner is the best choice for starters for its inexpensive and quality value. Reviving your old memories is easy with this scanner.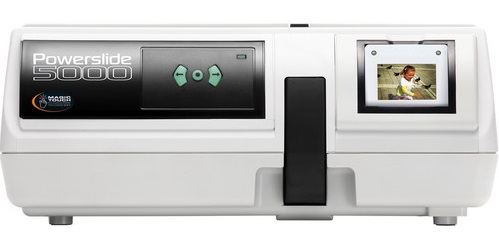 Pros
Fast and automated scanning ability
Superb image quality
Optical resolution up to 5000dpi
Magic touch, scratch and dust removal technology
Cons
Price can be hefty for its slide scanning-only ability
Not Stand-alone
The PowerSlide 5000 Automated 35MM Slide Scanner can do the most intensive 35mm scanning. When it comes to resolution, output quality and cleaning technology, it outshines other slide scanners. You can choose two output formats either TIF or JPEG. Since this scanner is not stand-alone, you need a PC or Mac to view the digitized output. A driver software must be installed to integrate with the scanner.
Verdict
The PowerSlide 5000 Automated 35MM Slide Scanner offers high speed scanning with a superb and vibrant output though it comes with a hefty price for its limited 35mm scanning ability.
Pros
Slide holder holds 4 frames
Up to 10,000 dpi resolution scanning output
Supports 48-bit color depth
Bundled with SilverFast® SE for brilliant enhancements
Automatic color correction
Reliable dust and noise reduction technology
Multi-format output
Cons
Limited to 35mm film and slide scanning
Not stand-alone
The Power of a full size scanner is now in the compact Pacific Image Prime Film XE.
The Pacific Image Prime Film XE is a sleek and compact scanner that would sit nicely on your desk. It offers the convenience of a portable unit without having to lose quality. This scanner features 48-bit of color depth and a 10,000 x 10,000 dpi resolution so you can expect large, high quality prints. This input color depth allows you to maximize the quality of your images up to 16-bit in your final scans. Combined with the dynamic range of 3.9, you can create high quality digital images straight from your 35mm slides or film. It's simple to use, featuring a one-touch scanning that gives you results in minutes.
On the other hand, the Magic Touch technology lets you remove dust and scratches from your scans so your images are crisp and clear. It has infrared sensor that detects dust and scratches. Another unique feature of the scanner is that digital noise reduction that reduces the grain you normally find when you scan 35mm slides or negatives and when enlarging images once they are digitized. Along with the magic touch, the scanner automatically corrects the color of your images to appropriate levels even on your faded films. This scanner has multi-format output of TIFF or JPEG.
Verdict
The Pacific Image Prime Film XE is a powerful compact scanner with a simple-to-use interface with a superb scratch and dust removal technology. It operates quickly and efficiently, and is compatible with both Mac and Windows 7, 8 and 10.
Pros
Full-color LCD Display
Fast slide and film scanning
Easy navigation menu
SD card included
Auto color balance and exposure technology
PC and MAC connectivity without driver installation
Cons
Limited to 35mm slide and film scanning
Not the best quality output
No dust and noise reduction technology
The ION Film 2 SD 35mm Slide and Negative Scanner is a good option for 35mm slide or film scanning. With a reasonable price, you can convert your old slides or film negatives to digital. You can view directly the scanned image with its LCD display. The scanning speed is superb that takes up to 2 seconds on average. There is included SD card but it only supports up to 8 GB. You need to maintain the cleanliness of the mirror because this unit has no dust and noise reduction technology. The output format is JPEG.
Verdict
Scanning with ION Film 2 SD 35mm Slide and Negative Scanner is very easy and produce good quality output. This is a good option for starters who want their slides and film digitized.
Best Scanner Options for 35mm Film Negatives
Pros
Scans films and slides, documents and photos
ReadyScan LED technology for faster scanning
Digital ICE for film produces excellent output
Highly efficient
Multi-output format
Cons
Using Digital ICE slows scanning speed
Not stand alone
Needs PC or MAC to save digitized images
Other Available Advanced Models: Epson V800, Epson V850, Epson FastFoto FF-640
The Epson Perfection V600 is a multi-purpose scanner that scans not just documents and old photos but also film negatives and slides. This unit is excellent if you're scanning 35mm film negatives, thanks to its ReadyScan LED technology which speeds up scanning and requires no warm-up time while Digital ICE helps removes scratches and dust. What's great about this unit is not just its excellent scanning but it is highly efficient, making this unit an ENERGY STAR® qualified.
Using this scanner requires MAC or PC. Unlike stand alone scanners which do not require third party hardware, Epson Perfection V600 needs to be connected to either by MAC or PC to process the scanning and save your digitized output. You can choose JPG, BMP, TIFF or PDF media output formats.
Verdict
Scanning film or slide requires investment of time. The Epson Perfection V600 helps you cut most of the time consumed in scanning thanks to its advanced technology. If you happen to have films or slides that need to be digitized, this unit is a perfect option.
Pros
Can digitize slides and films in seconds
Stand-alone scanner
LCD Display
SD/SDHC card options
Up to 20MP image resolution output
Cons
Internal memory only saves up to 40 images
Image quality may opt you for third party image editor/enhancer
Scanner is not built with high quality material
The Wolverine F2D Super 20MP 4-In-1 Film to Digital Converter is easy to use scanner with built-in software and LCD display for instant viewing of digitized images. This scanner claims to scan slides and images in just three seconds. The output is not great though it is not bad either. With up to 20MP output resolution, images are decent enough to be viewed on computers though printed output might be a little problem. This scanner scans 35 mm, 126, 110, and Super 8 negatives and the slide adapter can scan 35mm, 126, and 110 mounted slides.
See other available model: Wolverine F2D Mighty 20MP 7-in-1 Film to Digital Converter
Verdict
The Wolverine F2D Super 20MP 4-In-1 Film to Digital Converter is a user-friendly scanner. The price is reasonable for its features abilities. This is best recommended for starters.
Pros
Sports a 7200 dpi resolution
Automatic dust and scratch detection technology
Fast scanning even with highest resolution
Multi-format output
SilverFast® SE Plus 8 produce brilliant results
Cons
No screen display for instant viewing
Not stand-alone
The OpticFilm 8200i SE offers a great way to scan film and slides in a speedy and detailed manner. It can scan up to 7200 dpi resolution in approximately 113 seconds. The output quality is astonishing and offers multi-format output options – JPG, TIF, PCX and BMP. The SilverFast® SE Plus 8 software helps the cleaning and detailing of the scanned images.
See other available model: Plustek OpticFilm 8200i Ai Film & Slide Scanner
Verdict
Though OpticFilm 8200i SE is not a stand-alone scanner, it provides great option to scan film and slide and produce great result with its advanced technology.
Pros
Popup LCD Display
Portable with integrated rechargeable Li-Ion battery
Fast one touch scanning ability
Supports SD/SDHC Card
Bundled with 2GB SD card
Stand-alone
Cons
SD/SDHC card supports only up to 8GB
Limited to 35mm and 110 slide and film
The Veho VFS-008 Smartfix Scan offers amazing features to scan and digitize old films and slides. It supports 35mm & 110mm slides and negatives. The image sensor is only 5MP but it has a CMOS lens which makes the image more accurate and contrast. The resolution can go up to 3600 dpi and the output format is JPEG. The scanning speed is absolutely fast which takes up to 2 seconds while the preview speed can take only up to 0.5 seconds. The scanner supports PC and MAC connectivity using USB.
Verdict
Having a scanner like Veho VFS-008 Smartfix Scan can help you scan, digitize or archive your old slides and films. Though it is not recommended for big project scanning, the features this scanner have is a great value for money.
Conclusion
If you have a large number of 35mm slides and 35mm film negatives that you want to turn into digital photos, these are all great options that will provide what you need. These slide and film scanner reviews should be a great way for you to determine the kind of machine that you want and that you are able to afford.
Now you will be able to take all of those memoirs that you had stored in boxes and upload them to your computer, website or social media pages. We recommend that you invest on the best quality you can find if you have a large collection of slides or films that need to be converted to a digital format.