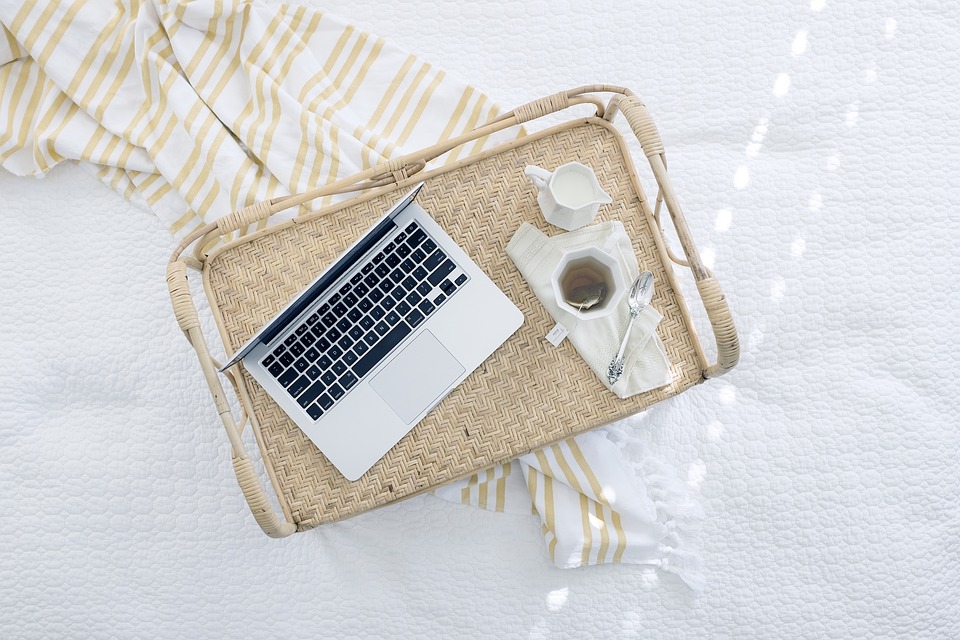 Laptops are very convenient devices since they are easy to carry but can still give the power you need from a desktop, which are bulky and heavy devices that are impossible to carry anywhere. However, even laptops give various advantages to people, these things can also give harmful effects to the users when you don't use them properly. Many researches were conducted to study how laptops bring health problems to people. Some of the serious problems are pointing out to a certain way how laptops are used: placing it directly to your lap. Even though the word "laptop" already suggests that it should be placed on the user's lap, it is still an electrical device, which means it is capable of producing radiation and heat energy.
Ronnie Koeneg (2013) of The Huffington Post, reveals that placing your laptop directly to your lap can cause Toasted Skin Syndrome, which is when the skin becomes red due to long exposure to heat. In relation to this, as the heat from the laptop damages the skin, it may develop into Skin Cancer. Another problem it can give is infertility to men since it can increase the temperature of the scrotum higher than the normal body temperature. This has a harmful effect on sperm reproduction. But these things may lead us to the question, "how can we avoid these problems then?"
Luckily, brilliant minds already thought of these problems and made simple but remarkable remedies. One is the creation of a lap desk. This lap support for laptop can avoid direct contact between your laptop and your lap. As a result, the heat produced by the laptop can no longer be a problem to your lap (or anything beyond it). In addition, this lap desk can also be the best lap desk for writing when you opt to not use your laptop when making songs, poems, or stories.
Already thinking of buying the best lap desk? You may want to consider these factors first when choosing the best lap desk for you:
1. Comfortable for the lap – You would definitely want to feel comfortable while using your laptop for hours, right?
2. Light – Who does even want to have a lap desk which is heavier than the laptop itself?
3. Sturdy – The rule number one on making any purchase, especially if it is for your beloved laptop.
4. Attractive – This is just a matter of taste
5. Built-in Fan – This is optional though. However, having a built-in fan definitely adds to factor to be the best laptop lap desk.
6. Extra storages for phone, pens or other accessories – This is also optional but if you need to have to use your laptop and phone simultaneously then you can look at those lap desks with this feature.
The Best 5 Lap Desk Reviews
Features
Can accommodate a laptop of up to 17 inches in length
Contains integrated mouse pads which allow convenience and ease for both right and left-handed users
Dual-bolster pillows provide a stable and comfortable use of the lap desk
The Ergonomic Wrist Pad ensures laptop from sliding while also allotting for comfort while typing
The Airflow Channel ensures proper ventilation while using the lap desk
Built-in Wrist Rest
Integrated Side Storage Pouches
LapShield
Build Quality
The XL Laptop LapDesk is made of the most efficient and durable materials, from its carbon fiber surface to its sleek finish. Included in the quality build of this product are the dual-bolster pillows which are comprised of microbeads for maximum comfort. The airflow channel is also an important consideration delivered by the manufacturers, as it prevents from overheating and secures safety of use while using the XL Laptop LapDesk.
Verdict
Whether you intend to use this product to surf the web while reclining on the couch or to diligently work in comfort, the XL Laptop LapDesk is the perfect method to achieving a certain sense of luxury while using your laptop. With all of its revolutionary features, this laptop desk is a great investment into improving the efficiency and versatility of your laptop.
Features
Made from 100 percent natural bamboo, the SONGMICS Bamboo Adjustable Laptop Desk is a sturdy, environment-friendly, and multi-functional furniture for students and young professionals. Aside from using it as a laptop desk, you can use it for reading, coloring, eating food, and doing school assignment on the dining table, in the living room, or even in the bed and car. It has adjustable legs and five tilting angles, providing you with a better and more convenient viewing experience.
Moreover, the SONGMICS Bamboo Adjustable Laptop Desk features a convenient design, consisting of a carved desktop design to spread the laptop's heat evenly, a cup-groove where you can place a cup of coffee, a small drawer on the side, and a removable stopper that stops the laptop from sliding.
Build Quality
From the name itself, the SONGMICS Bamboo Adjustable Laptop Desk is made of bamboo, so you can be sure of its durability. Its product dimensions are 55 x 35 x 29 cm (L x W x H), weighing around 2.5 kilograms. The dimensions of its large tilt tray are 36.5 x 35 cm (L x W). Since this is an adjustable product, you can adjust its height from 21 to 29 cm and its width from 65 to 75 cm. And there is no need for to assemble this laptop desk since it is already pre-assembled.
Verdict
Looking at its material, design, and features, you can really tell how useful the SONGMICS Bamboo Adjustable Laptop Desk is. It has a place for everything you need when you do a school assignment or work a freelance project. It accommodates, not only your laptop but also your coffee, smartphone, and other things that you need to get the job done. You can also do your work anywhere in the house and adjust it according to your preferred angle, height and width.
Features
If you want a working table where there are designated places for your laptop and smartphone, then the Sofia + Sam Multi Tasking Laptop Bed Tray is a very good choice for you. It features an adjustable top that keeps your laptop or book at an appropriate angle. It has a stopper that prevents your materials from sliding. Apparently, the top is multi-functional since you can use it for drawing, reading, and eating. It also has foldable legs for an easy storage or convenient carry.
Aside from those physical features, the Sofia + Sam Multi Tasking Laptop Bed Tray accommodates laptops up to 18 inches, tablets up to 9.6 inches, and smartphones up to 3.5 inches. It is also integrated with a storage drawer where you can place your pens, flash drives, coins, and important notes, to name a few.
Build Quality
The Sofia + Sam Multi Tasking Laptop Bed Tray is a workstation that you can bring anywhere you want to go. It weighs 8.2 pounds and has dimensions of 21.5″ x 13.75″ x 9.25″ inches (L x W x H). Because it is made of high-quality wood, the product's built is durable and sturdy, and it looks sophisticated and professional with its walnut color.
Verdict
Without a doubt, the Sofia + Sam Multi Tasking Laptop Bed Tray is an ideal portable workstation. You can use it on the bed, on the floor, or any place where you can comfortable work or study. It is also multi-functional, allowing you to do numerous activities apart from using it as a laptop table.
Features
Accommodates a laptop of up to 17 inches in length (includes proper ventilation).
Ergonomic Wrist Pad: Provides for comfortable laptop use while preventing your laptop from sliding.
Precision tracking Mouse Pad: This addition is particularly useful for those who prefer to use a mouse over a touchpad, such as gamers or engineers.
Media Slot: This revolutionary holder allots a space for your cell phone to keep it available at a moment's notice for your convenience.
Dual Bolster Pillows: These pillows conform to your lap for maximum comfort.
Build Quality
The XL Deluxe Laptop LapDesk is built with a durable carbon fiber surface to ensure that your lapdesk will be able to endure through the everyday wear and tear of its use. The cushions are comprised of microbeads which work to allow a stable and comfortable workplace for its users. Ventilation isn't an issue either, as the airflow channel creates optimum ventilation throughout the structure so that the laptop will never be overheated.
Verdict
For anyone who is looking to enhance their laptop experience with lavish comfort, efficient durability, and stylish accessories, the XL Deluxe Laptop LapDesk is the perfect addition to their home and you will forever upgrade your laptop experience.
Features
The Aleratec Natural Bamboo Adjustable Laptop Stand is a multi-functional school or office furniture that comes with numerous features and an outstanding quality. It has an adjustable bamboo tray that supports laptops, books, papers, tablets, and other electronic devices and study materials up to 15 inches wide. The table top has a unique ventilation design to dissipate the heat coming from your laptop.
In addition to those features, the Aleratec Natural Bamboo Adjustable Laptop Stand comes with adjustable legs that can be easily folded for a convenient storage. It also has a side door where you can store your pens, markers, flash drives, paper notes, and other small yet important things, as well as, a cup space and a removable stopper. Besides being a laptop stand, you can also use this product as a breakfast-in-bed tray.
Build Quality
When it comes to its built and quality, the pre-assembled Aleratec Natural Bamboo Adjustable Laptop Stand has a solid construction since the bamboo wood – the main material – has been harvested from a certified Forest Stewardship Council (FSC). It is a 100 percent environment-friendly material that comes from a renewable and sustainable resource. You will be impressed by its smooth bamboo finish.
The dimensions of the tray surface are 21 x 31 inches (Wide x Deep), while the laptop surface measures 15.25 x 13.25 inches (W x D). The table height can be adjusted between 11 to 15 inches.
Verdict
If you in search for a laptop stand, then the Aleratec Natural Bamboo Adjustable Laptop Stand is definitely a very good choice. It is spacious enough to support big laptops or other materials you use for studying and/or working. When you don't want to get up in bed, but you need to do some work, you can just bring the stand on the bed and do the things you need to finish. This is also durable and comes with a very good price.
Summary
Through laptops, you can now do your paperwork in your favorite restaurant, in your favorite coffee shop, or while you are traveling. However, like other modern devices, these things can still cause some negative effects to people when used in the wrong way. Good thing is that lap desks already exist to give the best remedy to this problem. And with the points to remember when looking for one, having the best lap desk is already within reach.